As parents we all want our kids to be able to focus when it matters. Not just when it's time to listen to us or to their teachers but when they're dealing with an important task or a crisis. Because we know focus is a crucial element of success.
A key benefit of karate is the way it helps children improve their focus. Learning new techniques, mastering complicated fight sequences and sparring in a ring all require children to pay attention and keep paying attention, in a way they find really fun and rewarding. It's a classic win-win situation.
For over 30 years Ottawa-area parents have sent their children to Douvris Martial Arts, where they find a program that emphasizes character development in children including improved focus.
"When we teach the kids at Douvris Martial Arts we try to explain focus in different ways," says Sensei Cody Diesbourg, lead instructor at our Bank Street dojo who has 20 years of teaching experience. "Focusing your eyes, because when we teach we're not just teaching with our words, we're also teaching with our actions" and children learn better when they can imitate their teachers.
We also work with children on "focusing our mind, which helps us be in the moment. We're here at karate, thinking about karate," Sensei Cody explains, adding that we take the concept further with children by getting them to think about how the improved focus they're learning at karate could help them in other areas of their lives.
Not all children learn to focus the same way. For some, especially the younger ones, it starts with something as simple as learning to keep looking straight ahead while listening and while doing techniques. We also emphasize bowing when entering the dojo and kneeling with their hands on their knees before and after class, basic techniques that get children to focus on what their body is doing to help them get it – and their mind – under control.
It's not always easy. But with a lot of positive reinforcement, including more experienced student leaders to follow in class as well as trained instructors to guide them, most children who come to Douvris Martial Arts improve their focus a great deal. Parents consistently report significant improvement at home, at school, and in their children's other activities as well.
Another very important aspect of the Douvris system is our leadership program. The more advanced "student leaders," in providing guidance to younger or less experienced students, are also improving their own focus by meeting the challenges of leading by example.
"When we interact in class," says Sensei Cody, "we're spending a couple of minutes each class talking about focus for the whole month, these kids are actually owning it. They're learning it, and they're teaching it to other kids."
It's not just children who can benefit from improving their focus. Many adults face a significant challenge in being "in the moment". We all have many other things in our lives that can sometimes keep us preoccupied or distracted. But when we find ways to stay focused on karate for an hour, with the help and encouragement of experienced instructors, it's very rewarding.
"A lot of adults," says Sensei Cody, "use karate as a stress reliever. And this is the best way to do it. Come in, put on your uniform, bow in. You're a different person." You are ready to learn and enjoy much-needed "me time" in a safe environment. And the best thing about it, as Sensei Cody explains, is that when adults leave the dojo "they're taking that good feeling and they're applying it to everything else they were going to be doing the rest of the day."
- CHARACTER DEVELOPMENT PROGRAM -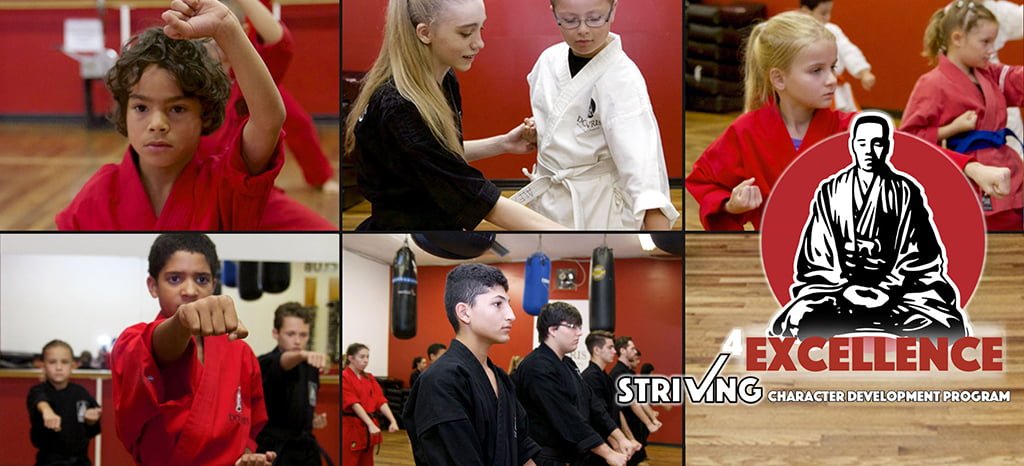 DOUVRIS Martial Arts strongly believes in developing the character of our students along with the martial arts skills we teach them. The Striving for Excellence character development program was developed with over 30 years experience in teaching children respect, confidence and self-discipline. Striving for Excellence gives our members the opportunity to discuss, practice, and apply character development traits in their lives. The program includes a Karate Kids Workbook and a Karate Tykes Colouring book which children complete each month at home. The lessons outlined in the workbook are designed to accompany the "Word of the Month" which instructors discuss with students during each class.
We have karate programs for all ages and fitness levels.
Our karate tykes program guides kids ages 4-6 through basic karate techniques and provides the foundation for important life skills.
Our Kids program keeps children aged 7 to 12 active and helps balance & coordination, concentration, and self-discipline.
Our Youth program is designed for teens 13-18 years of age. It is a complete approach to training in the martial arts.
Join our Adult program to improve fitness levels, learn self-defense techniques, increase confidence, and feel empowered.