10 Tips for Staying Accountable in Your Mindfulness & Self Development Practice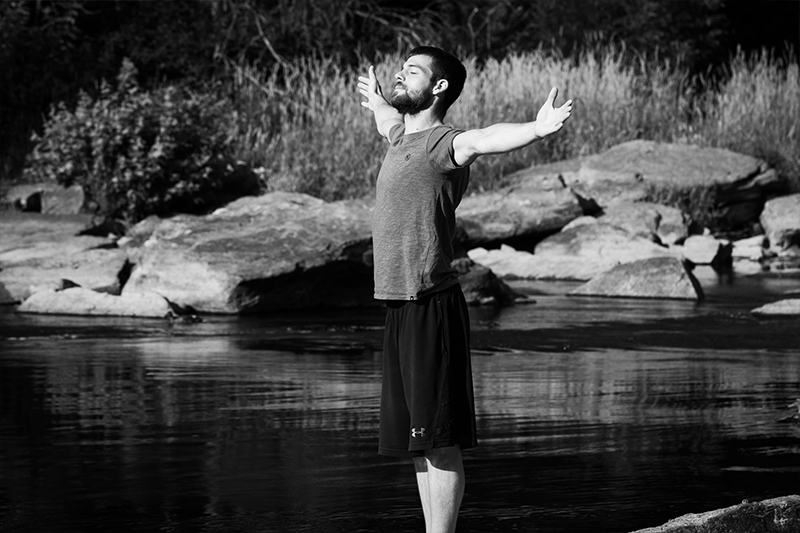 How many times have you told yourself you're going to add more mindfulness to your life only to have a week, or even months pass before you realize you haven't had a single deeply intentional moment of presence? When it comes to my own self-development I would tell myself, "I'm going to be mindful every second of every day starting….NOW!" only to experience the exact scenario I just outlined. Unfortunately, self-development and mindfulness don't work like that. You have to develop these practices like habits.
Mindfulness and self-development can look extremely different depending on who you ask. Whether it's your meditation practice, your movement or fitness routine, new daily habits you want to elevate your life with, the one thing we can definitely all relate to is the challenge of staying committed and accountable in these practices. So today I'm sharing my top 10 tips for staying accountable and creating a healthy mindfulness and self-development practice, whatever that looks like for you.
1. Create or find a safe and sacred space
I think the power of space is deeply underestimated. For me, having a space that is directly associated with mindfulness or self-development means that when I'm feeling disconnected from these practices, I simply need to enter that space again to reconnect with my goals and values. I personally use the dojo for this, but you can create this space anywhere. Find a corner in your home and dedicate it to yourself. Put a comfy chair in it and fill it with items that help ground you like candles, soft blankets or pillows, pictures, etc. Then, whenever you're feeling disconnected you can always find your space, spend some extra time there that day.
2. Start small
Self-development can be challenging, whether this involves mindfulness for you or not. It involves a lot of self-evaluation and awareness, two things that can be extremely painful if you're not a fan of what you're witnessing or uncovering. To avoid any overwhelm in that department it's important to take baby steps. If more mindfulness is your goal maybe start with little reminders to breath placed where you'll see them often during the day. If you're trying to meditate for the first time, I suggest not setting a timer for 10 minutes and just jumping in. It's easy to become overwhelmed when we spend too much time focused on ourselves or on things we need to improve. You don't want to start these new practices off by bringing up negative emotions and having them associated with practices that are meant to make you feel better.
3. Pick your physical practice
While it's great to find mindfulness and self-development in stillness, have you ever tried applying it to your physical activity and movement? Master John finds his best moments of presence and evaluation when he's walking on his treadmill in the morning, while he's practicing his kata and hitting the heavy bag. For me, applying mindfulness to physical activity is the simplest place to start. You're already partaking in a practice that will induce some happy hormones. You're most likely feeling intense sensations throughout your body as you elevate your heart rate and I've found that finding complete focus and presence here is much less challenging than in stillness.
4. Schedule time for stillness
If you're the type who forgets everything, me too, this may be one of the most important tips for you. Scheduling and setting reminders in your calendar for your mindfulness and self-development practice could be a game-changer. Maybe you have a quiet alarm/notification on your phone that reminds you to take deep and intentional breaths every hour or so. Maybe you block out 15 minutes after work to spend reading. Maybe you pick the same time every week to take a nice, warm bath in silence. Whatever it is, block out the time and commit to it.
5. Find accountability buddies
Just over a month ago Master John and I were mutually complaining about our lack of physical activity and the consequences of said lack of activity. So he said meet me here before work every Monday and Wednesday and we'll hit the heavy bag and work on katas. This was Master John making himself accountable to me and me accountable to him. Being fairly competitive, neither of us wants to be the first to cancel or move a workout. So, every week for the past 6 weeks we've been in there 2 times a week working on ourselves together. One of the most beautiful things in the world is humans supporting other humans. We see it every day in the dojo when you guys come to group classes. You encourage each other, inspire each other and most importantly support each other simply by showing up.
6. Surround yourself with humans who have the same values as you
We'll keep this one short and sweet. It is exponentially more challenging to commit to something you value, like mindfulness and self-development, if the people you surround yourself with are constantly directing you away from it. It may not even be on purpose but the reality is if someone doesn't agree with or support something you value, something that helps you grow as a human being and they actively impede this development, you're the only one who loses. Consider creating space or distance in these relationships. This will create space for those who do support and elevate you in your practice.
7. Value your time
When it comes to your time and values there is almost a cyclical relationship. We make time for things we value and by doing so we value our time. Spend some time today evaluating your values and make sure that your time is on that list. Your time is your most valuable resource, treat it as such.
8. Reward yourself
Positive reinforcement is so important when it comes to behaviour changes and character development. Your brain needs to associate the thing you want to do or get done when positive emotions. It's like biohacking! You can convince yourself to do almost anything or develop almost any habit if your body and mind are full of positive emotions and energy when you think about or start the practice or habit.
9. Review your performance and commitment regularly
True and honest self-evaluation is one of the most challenging aspects of being a human, for me at least. It can be messy, painful and bring up all of the emotions we like to push down and hide from. It involves admitting and acknowledging your "flaws" or "shortcomings", features I'm trying to refer to more as "spaces for improvement". When it comes to your mindfulness and self-development this type of evaluation is critical. If you are unable to acknowledge where you can do better, how can you take steps towards it? It's very easy to allow your mind to be clouded with excuses and unnecessary defense mechanisms against your most vulnerable emotions. However, isn't this the whole purpose of developing this practice though? The purpose is to learn to sit with and effectively manage these difficult situations and emotions.
10. Be honest but compassionate with yourself
In order for self-evaluation and a "review of your performance" to be effective and helpful, it needs to have a positive tone (see point 8). It needs to be associated with positive emotions. This means POSITIVE SELF TALK ONLY when you admit and acknowledge your spaces for improvement. Frame your evaluations and moments of self-awareness in a positive way. Instead of saying "I suck at meditating, and I suck at time management and finding time to move my body." Tell yourself, "I can improve my time management skills and I will make a stronger effort to find time to be relaxed and mindful going forward." Show yourself compassion. We are so quick to show the people we care for compassion and to tell the people we care for to show themselves compassion, why is it so challenging to do so for ourselves? There is nothing helpful in talking down to yourself. Enough people in your life are going to try to make you feel bad, don't add to it. Actively reject it.
This is such a big topic and we want to hear your thoughts on it, Douvris Family. Email or send us a message on social media about how you are taking accountability for your well being. Not a part of our Douvris dojo community yet? Joining us is easy, email info@douvris.com or call 613-234-5000 to find out about our current programs and services!
Join the Mindfulness Monthly Newsletter Series
Sign-up to our Mindfulness with Douvris newsletter and receive once a month updates from us about mindfulness techniques.